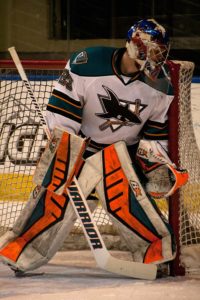 Aaron Dell of Airdrie, Alberta recorded his fourth career NHL shutout on Saturday. Dell made 30 saves as the San Jose Sharks defeated the St. Louis Blues 4-0 at the SAP Center in San Jose, California. 
Dell made nine saves in the first period, 10 saves in the second period and 11 saves in the third period. Two Canadians recorded a multi-point game for the Sharks. Evander Kane of Vancouver, British Columbia had one goal and one assist for two points and Logan Couture of Guelph, Ontario had three assists.
This was Dell's first shutout of the season. He previously has had three shutouts. They came in a 2-0 win over the Philadelphia Flyers on December 30, 2016, in a 5-0 win over the Vancouver Canucks on November 11, 2017 and in a 5-0 win over the Ottawa Senators on December 9, 2017.
In six games this season, Dell has a record of two wins, two regulation losses and two losses in extra time. He has a goals against average of 2.47 and a save percentage of .920. Dell's other win this year came in an 8-2 win over the Philadelphia Flyers on October 9.
Ironically, this was the second time this month that the Sharks and Blues have played to a 4-0 score. On November 9, the Blues beat the Sharks 4-0, as Chad Johnson of Saskatoon, Saskatchewan made 33 saves for the shutout. The Sharks currently lead the Pacific Division with 25 points. They have two more points than the second place Calgary Flames.