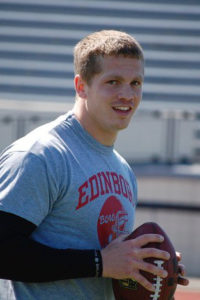 Trevor Harris of the Ottawa Redblacks set a Canadian Football League record for most touchdown passes in a playoff game with six on Sunday as the Redblacks beat the Hamilton Tiger-Cats 46-27 in the Eastern Final. With the win, the Redblacks will play the Calgary Stampeders in the 2018 Grey Cup from Edmonton, Alberta.
Harris completed 29 of 32 passes for 367 yards. He had two touchdown passes to Diontae Spencer (first for 44 yards and the second for nine yards), and one touchdown pass each to Jean-Christophe Beaulieu of Trois-Rivieres, Quebec, Marco Dubois of LaSalle, Quebec, Brendan Gillanders of Orleans, Ontario and Greg Ellingson.
Beaulieu caught his touchdown pass at 12:56 of the second quarter for two yards which put the Redblacks up 20-6 at the time. Dubois caught his touchdown pass at 1:50 of the third quarter for 15 yards, which put the Redblacks up 33-13. Gillanders then had a 58 yard touchdown reception at 12:55 of the third quarter, which put the Redblacks up 39-19.
Harris broke the record previously set by Anthony Calvillo of the Montreal Alouettes. Calvillo had five touchdown passes in a 56-18 win over the British Columbia Lions in the 2009 Eastern Final.
The Redblacks also tied the CFL playoff record for most touchdown passes in a single playoff game.  Ironically, it was the Ottawa Rough Riders that originally set that record on November 19, 1966 in a 42-16 win over the Hamilton Tiger-Cats in game two of the Eastern Final. Russ Jackson of Hamilton, Ontario had four touchdown passes, while Bill Cline and Don Gilbert had one each.
The Stampeders meanwhile beat the Winnipeg Blue Bombers 22-14 in the Western Final. Stampeders receiver Eric Rogers caught six passes for 61 yards and three touchdowns.