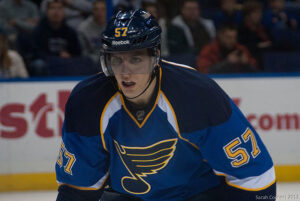 David Perron of Sherbrooke, Quebec recorded his sixth career National Hockey League career hat trick on Saturday. The veteran left winger scored thrice for the St. Louis Blues in a convincing 7-3 win over the Los Angeles Kings at the Enterprise Center in St. Louis, Missouri.
Perron scored his first goal of the game at 14:36 of the first period on the power play from Torey Krug and Vladimir Tarasenko to tie the game at one. He then put the Blues up 3-1 at the 45 second mark of the second period from Krug and Klim Kostin. Then at 11:40 of the third period, Perron scored again on the power play from Krug and Tarasenko to close out the scoring.
Perron was one of two Canadians on the Blues with a multi-point game. The other was Brayden Schenn of Saskatoon. Saskatchewan, who had two assists. Perron's other five NHL hat tricks came in a 6-1 Blues win over the Vancouver Canucks on November 10, 2009, in a 4-2 Oilers win over the Canucks on January 27, 2014, in a 6-4 Blues win over the Calgary Flames on October 22, 2016, in a 5-3 Blues win over the Flames on October 11, 2018, and in a 5-2 Blues win over the Colorado Avalanche on December 16, 2019.
In four games this year, Perron has five goals and two assists for seven points. He is a +1 with four power play points, two penalty minutes, one game-winning goal, 13 shots on goal, and four hits.
The Blues meanwhile have got off to a great start. They have won their first four games and lead the Central Division with eight points.