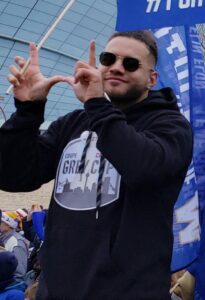 Week 12 is in the books in the Canadian Football League, and two Canadian players recorded touchdowns for winning teams on Saturday. However one must realize that Winnipeg Blue Bombers running back Brady Oliveira is from Winnipeg, Manitoba, and Saskatchewan Roughriders wide receiver Brayden Lenius is from Regina, Saskatchewan, and found the end zone for their hometown teams.
Oliveira had 17 carries for 65 yards and a touchdown in a 45-0 Blue Bombers walloping over the British Columbia Lions at Investors Group Field in Winnipeg, Manitoba. His touchdown came on a two-yard run at 7:03 of the third quarter, which put the Blue Bombers up 22-0. After playing two games with the Blue Bombers in a reserve role in 2019, Oliveira has made the most of his opportunity in coming in for the injured Andrew Harris of Winnipeg, Manitoba. Oliveira now has 78 carries for 365 yards and one touchdown, along with eight catches for 54 yards in 2021.
Lenius had three catches for 44 yards in a 20-17 Roughriders win over the Calgary Stampeders at McMahon Stadium in Calgary on Saturday. Lenius's touchdown came at 7:29 of the third quarter and put the Roughriders up 12-10 at the time. It would be a lead Saskatchewan would not relinquish. On the season, Lenius now has 29 catches for 382 yards and three touchdowns.
With the win, the Blue Bombers continue to be the best team in the CFL at 10 wins and one loss. The Roughriders are in second place at six wins and four losses.