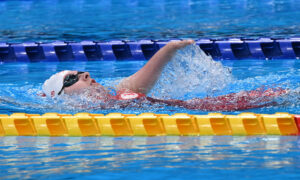 Danielle Dorris of Moncton, New Brunswick has won Canada's 12th medal at the 2020 Paralympic Games in Tokyo in 2021. In the women's 100 metre backstroke, Dorris, who only has partial arms, won the silver medal.
Dorris delivered a time of 1:21.91. Mallory Weggemann of the United States won the gold medal with a time of 1:21.27. Julia Gaffney of the United States won the bronze medal with a time of 1:22.02. Dorris reached the podium by 1.19 seconds over McKenzie Coan of the United States, who finished in fourth place with a time of 1:23.10.
In other action, Canada has reached the quarterfinals in men's wheelchair basketball. On Sunday, Canada defeated Colombia 63-52 thanks to 22 points by Patrick Anderson of Edmonton, Alberta, to improve to a record of two wins and three losses. That was good enough to finish in fourth place in Group A, where they will play Great Britain. The other three men's quarterfinal matchups have Australia versus Japan, the United States versus Turkey, and Spain versus Germany.
In women's wheelchair basketball, Canada trounced Australia 76-37 to finish their group at three wins and one loss, and good enough for second place in their group. Tamara Steeves of Toronto, Ontario led the Canadian attack with 17 points. In the quarterfinals on Monday night in Canada (Tuesday in Japan), the Canadians will play the Americans. The other three women's quarterfinal games have Spain versus Germany, the Netherlands versus Japan, and China versus Great Britain.
Team Canada now has 12 Paralympic medals (one gold medal, seven silver medals, and four bronze medals). They are 19th overall in the Paralympic medal standings.