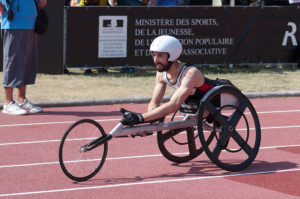 Brent Lakatos of Dorval, Quebec won his second silver medal at the 2020 Paralympic Games in Tokyo in 2021. It was one of three medals won by Canadians on Sunday, as Stefan Daniel of Calgary, Alberta won a bronze medal in the men's triathlon, and Canadian women won bronze in the 4×100 metre freestyle relay.
Lakatos posted a second-place time of 46.75 seconds in the men's 400-metre wheelchair race. Pongsakorn Paeyo of Thailand won the gold medal with a world record time of 46.61 seconds. Vitalii Gritsenko of the Russian Paralympic Committee won the bronze medal with a time of 49.41 seconds. Lakatos reached the podium by 2.86 seconds, as Brian Siemann of the United States finished in fourth place with a time of 49.61 seconds. On Saturday, Lakatos won silver in the men's 1500-metre wheelchair race.
Daniel, who suffers from club hands, and a longer left arm than right arm, posted a third place time of 59 minutes and 22 seconds. Martin Schultz of Germany won the gold medal with a time of 58 minutes and 10 seconds. George Peasgood of Great Britain won the silver medal with a time of 58 minutes and 55 seconds. Daniel reached the podium by six seconds over Chris Hammer of the United States, who was in fourth place, with a time of 59 minutes and 28 seconds.
The Canadian women who won bronze in the women's 4×100 metre relay were Aurelie Rivard of Saint-Jean-sur-Richelieu, Quebec, Morgan Bird of Regina, Saskatchewan, Katarina Roxon of Kippens, Newfoundland, and Sabrina Duchesne of Quebec City, Quebec. Rivard and Roxon each have one hand, while Bird and Duchesne each have cerebral palsy.
Canada posted a time of 4:30.40, and benefited by the fact that Great Britain and the United States were both disqualified. Italy won gold with a time of 4:24.85. Australia won silver with a time of 4:26.82. Canada earned a medal by 2.81 seconds over China, which was in fourth place with a time of 4:33.21.
In women's sitting volleyball, Canada won their first game by beating Italy, 25-16, 25-14, 15-25, 25-18. Heidi Peters of Edmonton, Alberta led Canada with 34 points. Canada lost their first game of the Paralympics to Brazil in five sets.
In wheelchair basketball, Canada was victorious in men's and women's action. In women's action, Tamara Steeves of Mississauga, Ontario led Canada with 17 points as Canada trounced Australia 76-37 to improve to a record of three wins and one loss. In men's action,Patrick Anderson of Edmonton, Alberta scored 29 points as Canada beat South Korea 79-69 for their first victory, compared to three losses. However, with a win over Colombia on Sunday, and Canada will reach the quarterfinals.
Canada now has 11 medals (one gold medal, six silver medals and four bronze medals). They are in 16th place in the overall Paralympic medal standings.