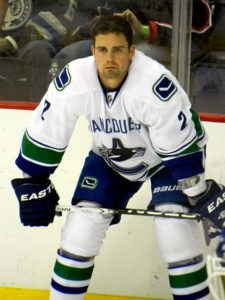 Canadian Olympic gold medalist Dan Hamhuis of Smithers, British Columbia signed a two year contract with the Nashville Predators on Wednesday. A defenseman, Hamhuis is set to make $1.25 million in each of the next two seasons for $2.5 million overall.
Hamhuis is actually making a return to the Predators. He was originally drafted in the first round, 12th overall by the Predators, in the 2001 National Hockey League Entry Draft. Hamhuis then went on to play six seasons in Nashville from 2003 to 2010 and had 32 goals and 129 assists for 161 points in 483 regular season games.
In addition to the Predators, Hamhuis has played for the Vancouver Canucks and Dallas Stars. Last season with the Stars, he had three goals and 21 assists for 24 points in 80 games. Hamhuis was a -6 with 33 penalty minutes, one game winning goal, two power play points, 66 shots on goal, 82 hits, 113 blocked shots, 13 takeaways and 30 giveaways. Hamhuis's game winning goal last season, his eighth of his career, came in a 3-1 win over the Arizona Coyotes on October 17.
Hamhuis won his gold medal for Canada at the 2014 Olympic Winter Games in Sochi.He also won a gold medal for Canada at the 2007 International Ice Hockey Federation World Men's Hockey Championship in Moscow and the 2015 World Men's Hockey Championship in Prague.