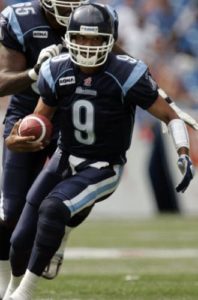 In 2018, Canadian Football League quarterback Damon Allen continued his outstanding resume of achievements when it was announced that he will be inducted into Canada's Sports Hall of Fame in Calgary. Allen played a remarkable 23 seasons in the CFL with the Edmonton Eskimos, Ottawa Rough Riders, Hamilton Tiger-Cats, British Columbia Lions, Toronto Argonauts and Memphis Mad Dogs. A four-time Grey Cup champion, he was also the CFL's most outstanding player in 2005.  Here is my recent interview with one of the greatest quarterbacks in CFL history.
Q: How gratifying is it to be inducted into Canada's Sports Hall of Fame?
A: "I'm more humbled than gratified. I didn't expect to be in Canada's Sports Hall of Fame. When I first came to the game, I figured if I had 10 years in the league, it would be a great career. I didn't know I was going to play 13 more years after that. Once you do get inducted, you reflect back and you realize that you truly did have an impact on the game, and to be able to play so long and to play at such a high level. The hard work and dedication I put in was gratifying. I was one of the smallest quarterbacks in the league at 157 pounds. I left the CFL at 183 pounds. I was the CFL's most outstanding player at 42 years old (2005 with the Toronto Argonauts).
Q: In the last 11 years the Canada's Sports Hall of Fame has inducted Bob Ackles, Pinball Clemons, Doug Flutie, Warren Moon and Lui Passaglia. You were a teammate of Pinball and Lui, and were with Bob in 2002 with the Lions. What can you tell me about those who I mentioned?
A: "What I can say about every one of those guys is that they cared about what they did and the game of football. They risked. They dreamed. They expected greatness. They all played with the confidence, the skill and the intelligence, which is really neat to see. I mean if you are going to be great at what you do, you have to have extreme belief in your skill set and you are have to have intelligence to make the adjustments and adapt to the game. You hope that you can play the game healthy as well. When you put years in, you have an opportunity to put numbers up and win championships. If you don't win championships, it is hard for you to get into the Hall."
Q: Tell me about joining the CFL for the first time in 1985. Was it what you expected?
A: "When I stepped on the field, I believed I was going to be the best on the field. I expected it."
Q: You won four Grey Cups with three different teams and two of the Grey Cups were played at McMahon Stadium in Calgary. How special has Calgary been to you in your professional football career?
A: "Those are the times that you remember—the Grey Cup games. Not only that, but the level of competition that I played against when I came to the city. The Stampeders were always a good football team coached by Wally Buono. The Stampeders had great players. To compete at that level, and to be able to get past those guys, was really a testament. When I was with Edmonton (the second time), the belief was that either Edmonton or Calgary would win the Grey Cup. I was competing against really good Stampeders teams. To step into the Hall in Calgary knowing that two of my Grey Cups were in Calgary is wonderful. I should feel welcome every time I come here."
Q: You are professional football's all-time passing yards leader. For many years, you were known for your running ability and ability to escape from the pocket. What does this record mean to you?
A: "It means a lot to me. I've always been the person who has the ability to run and throw. When you eliminate one aspect of my game, you are really talking about Damon Allen as the player. When you look at the totality of what I have been able to do over those 23 years, such as throw for those many yards (72,381) and rush for those many yards (11,920), and be number one in combined yards of rushing and passing (84,301), that is what I am the most proud of. I laugh about it all the time that I could have made the Hall of Fame just on my rushing yards.
Q: One attribute that comes to mind in describing your football career is longevity. Were you surprised you played 23 seasons in the CFL?
A: "I am very surprised. To be able to do that takes health and wellness. It was also part of my style of play. It was the way I played that allowed me to stay healthy as well. I realized being 150 to 160 pounds over my first few years, I knew I had to be rather elusive. When I ran, I tried to make things happen, and slide when I needed to. Third and one is almost automatic. Even though you played the game tough, and ran in between tackles, I was the only quarterback who had designed running plays. You think about health and wellness. No one knows that they are going to play 20 some years."
Q: What can you tell me about your family and brother Marcus, who had a fantastic NFL career?
A: "You would be surprised. Our family is a baseball family. I was drafted by the Detroit Tigers (as well as the Texas Rangers and Seattle Mariners). Our parents always told us to reach our dreams, work hard, dedicate yourself, do the things that you desire to do, and have fun doing it. Not just have fun, but don't quit. My parents were always involved. My mom was always involved and was a team mother. They were always at games. When I was in college, they would go to my football game on Saturday and then go to the Raiders game on Sunday to see Marcus. They would take the trip from San Diego to Fullerton to Los Angeles. It speaks a lot about them why Marcus and I have the dedication and love for the game."
Q: You are originally from San Diego, but currently call Oakville home. Why did you decide to continue to live in Canada?
A: "I decided to stay in Canada because more than half my life has been here. I am a lot like my dad in that sense because I try to go my own path. That path brought me to Canada. I wanted to immerse myself in the cities I played for and the communities I was living at the time."
Q: If there is one thing you would like football fans to know about you, what is it?
A: "I was willing to die on the field for winning and winning championships, and to play for my teammates. I had pure joy in playing the game. It was very similar to being a kid at the sandbox who would kick and scream when it was time to go home. That was the kind of passion I had for competing and playing the game. All the Canadian fans in the cities I played in, were always thankful of watching me play. For me to entertain them for 23 years was the greatest complement."
Q: Are you still active in football and if so, what are you up to?
A: "I am still involved in sport at the amateur level. I try to encourage young people. That is the generation you want to inspire. I am still involved in the Canadian Football League at the league level and also with the Argonauts. I attend every home game and deal with their corporate side. I am a big proponent and big ambassador of the game, and will continue to do that as long as I am in Canada."