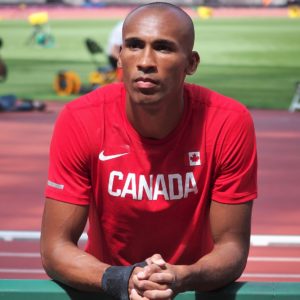 It was a record-breaking decathlon victory for Damian Warner of London, Ontario this past weekend in Gotzis, Austria. In the two-day competition known as the Hypo Meeting, Warner posted a total score of 8995 points, a Canadian record, and the fourth most number of points a decathlete has ever had at a single decathlon competition. Warner only trails Kevin Mayer of France (9126 points at the 2018 International Association of Athletics Federations Combined Events Challenge in Talence, France), Ashton Eaton of the United States (9045 points at the 2015 IAAF World Championships from Beijing), and Roman Sebrle of the Czech Republic (9026 points at the 2001 Hypo Meeting in Gotzis).
In Gotzis this weekend, Warner also broke the Canadian men's long jumping record of 8.28 metres. Edrick Floreal of Montreal, Quebec had the old record of 8.2 metres at an event in Sherbrooke, Quebec in 1991. Floreal also holds the Canadian triple jump record of 17.29 metres at an event in Provo, Utah in June of 1989.
The world record holder in the men's long jump is Mike Powell of the United States, who has a jump of 8.95 metres from the 1991 World Championships in Tokyo. Powell has Canadian connections as his wife is Rosey Edeh of Lasalle, Quebec, who was Canada's top middle distance hurdlers from the 1990s, and his daughter is Micha Powell of Toronto, Ontario, who represented Canada at the 2016 Olympic Games in Rio de Janeiro in the women's 400 metres.
Warner's previous Canadian record in the decathlon was set at the 2018 Hypo Meeting, as Warner had 8795 points. In Gotzis this past weekend, Pierce LePage of Whitby, Ontario won the silver medal with 8534 points. Thomas Van Der Plaetsen of Belgium won the bronze medal with 8430 points. Warner earned a medal by 664 points over Vitaliy Zhuk of Belarus, who was in fourth place with 8331 points. LePage meanwhile earned a medal by 203 points.
Warner has now also won a record six Hypo Meeting competitions. He previously won in 2013, 2016, 2017, 2018 and 2019. Sebrle held the old record with five Hypo Meeting titles. The only other Canadian to win the Hypo Meeting was Michael Smith of Kenora, Ontario, in 1991 and 1996. The gold medal will give Warner confidence as he prepares for the 2020 Olympic Games in Tokyo in 2021.