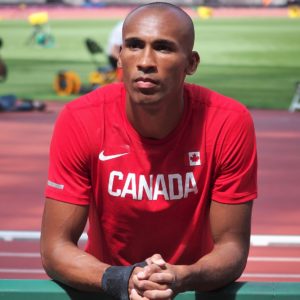 Canadian Olympic gold medalist Damian Warner of London, Ontario will be receiving a star on Canada's Walk of Fame in Toronto on December 4 at the Beanfield Centre according to Chris Faria of the Canadian Olympic Committee on Monday. Warner won a gold medal for Canada in men's decathlon at the 2020 Olympic Games in Tokyo in 2021.
Warner had a sensational Olympic decathlon this summer in Japan. He posted a score of 9018 points, and in the process set an Olympic record. Warner also is one of four decathletes all-time to record 9000 points, and holds the decathlon world records in the  100 metre hurdles (13.36 seconds at the 2021 Hypo-Meeting in Gotzis, Austria),the 100 metres (10.12 seconds at the 2019 Hypo-Meeting in Gotzis and the 2020 Olympic Games in Tokyo in 2021) and the long jump (8.28 metres at the 2021 Hypo-Meeting in Gotzis). It should be noted that Warner did post a time of 13.27 seconds in the men's 100 metre hurdles in winning the gold medal at the 2015 Canadian Track and Field Championships in Edmonton.
Warner's long jump of 8.24 metres at the Olympic Games would have won him Olympic bronze. He is also a three-time World Championship decathlon medalist, and has won two Pan American Games gold medals and one gold medal at the Commonwealth Games.
Bret Hart, who is also being honoured, is a professional wrestler from Calgary. He is part of the Hart family dynasty that has dominated professional wrestling over the years.