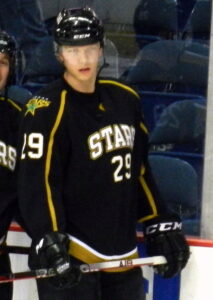 The Vancouver Canucks have signed right winger Alex Chiasson of Montreal, Quebec to a one-year deal worth $750,000 according to Rogers Sportsnet on Tuesday. The Canucks become Chiasson's sixth National Hockey League team following the Dallas Stars, Ottawa Senators, Calgary Flames, Washington Capitals and Edmonton Oilers.
Last season in Edmonton, Chiasson had nine goals and seven assists for 16 points. He was a -10 with 33 penalty minutes, seven power-play points, one game-winning goal, 65 shots on goal, two faceoff wins, seven blocked shots, 40 hits, 13 takeaways, and 10 giveaways.
Chiasson had two multi-point games last season with Edmonton. He scored twice in a 6-5 Oilers loss to the Winnipeg Jets on February 15, and had one goal and one assist for two points in a 4-3 Oilers win over the Montreal Canadiens on May 12.
In his career, Chiasson has 101 goals and 101 assists for 202 points in 565 games. He is a -41 with 329 penalty minutes, 60 power-play points, eight shorthanded points, 15 game-winning goals, 803 shots on goal, 102 faceoff wins, 171 blocked shots, 594 hits, 191 takeaways and 145 giveaways.
Chiasson's best NHL season came with the Oilers in 2018-19. That year he had career highs in goals (22), points (38), power-play points (15), and blocked shots (31).
The Canucks also made a trade this past week with the Florida Panthers. On Monday, the Canucks traded defenseman Olli Juolevi to the Florida Panthers for center Juho Lammikko and defenseman Noah Juulsen.