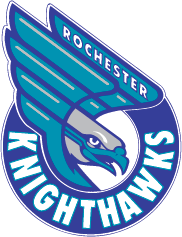 Josh Currier of Peterborough, Ontario has helped the Rochester Knighthawks force a third and deciding game of the 2018 National Lacrosse League Cup. On Saturday from the Blue Cross Arena in Rochester, New York, Currier led the Knighthawks in scoring with four goals and six points as Rochester beat the Saskatchewan Rush 13-8 to tie the best out of three series at one game apiece.
The Rush got off to a strong start but they were unable to hang on to their 2-0 advantage. The second quarter was the difference as the Knighthawks outscored the Rush 5-1 to take an 8-4 halftime lead.
After the Knighthawks' game two win, the series will shift to Saskatoon on Saturday. The Rush are looking for their second NLL title in three years since moving from Edmonton as they beat the Buffalo Bandits in the 2016 Champion's Cup two games to none.
However in order for Saskatchewan to get by Rochester, they will need to do a better job in defending against loose balls. In the first game of the series, Rochester collected 55 loose balls, while in the second game Rochester collected 90 loose balls. The Knighthawks lost by seven goals in the first game of the series and then beat Saskatchewan by five in game two.