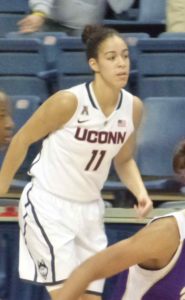 It appears Kia Nurse of Hamilton, Ontario is making a significant impact early on for the New York Liberty in the 2018 WNBA season. On Saturday, Nurse had a record breaking performance as she scored 34 points as the Liberty beat the Indiana Fever 87-81 in overtime at the Bankers Life Fieldhouse in Indianapolis, Indiana.
In all, Nurse set three records in the game according to FIBA. She set the record for the most points scored by a Canadian in a WNBA game. Nurse also set the records for the most points scored in a game by a Liberty rookie and the most points in a game by a reserve player.
To be able to put down 34 points in a game is impressive. However to do it while coming off the bench is quite simply, marvelous.
Unfortunately for Nurse, she was unable to continue her hot shooting on Tuesday as she had a season low five points in a 80-74 loss to the Phoenix Mercury at Madison Square Garden in New York City. During her first WNBA season, Nurse is averaging 19 points, 4.3 rebounds and 2.5 assists per game. Where Nurse has been extremely impressive is from the free throw line where she has made 25 of her 26 shots for an excellent percentage of 96.2.
The Liberty currently are at two wins and three losses to start the season. They next play host to the Connecticut Sun on Thursday.