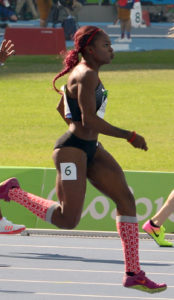 Crystal Emmanuel of Scarborough, Ontario won a silver medal in the women's 200 metres at a Diamond League track and field event in Oslo, Norway on Thursday. Emmanuel placed second at the Bislett Games for her second Diamond League career medal. Emmanuel previously won a silver medal in the women's 200 metres in Stockholm on June 18, 2017.
In Oslo on Thursday, Emmanuel had a season best time of 22.89 seconds. Dafne Schippers of the Netherlands won the gold medal with a time of 22.56 seconds. Jenna Prandini of the United States won the bronze medal with a time of 23.1 seconds.
Emmanuel reached the podium by 0.22 seconds. Gabrielle Thomas of the United States finished in fourth place with a time of 23.11 seconds. What made Emmanuel's performance in Oslo even more spectacular was the fact she was running from lane eight.
Emmanuel's personal best in the women's 200 metres was 22.5 seconds, which was set in Cork, Ireland on July 18, 2017. The race in Oslo was the third women's 200 metre event on the Diamond League circuit this season. Dina Asher-Smith of Great Britain won the first two races in Doha on May 3 and in Stockholm on May 30.
With the silver medal, Emmanuel is fourth in the Diamond League standings with 10 points. Asher-Smith leads with 16 points. Schippers is second with 14 points and Jamile Samuel of the Netherlands is third with 13 points. The silver medal in Oslo will give Emmanuel confidence as she prepares for the 2020 Olympic Games in Tokyo.