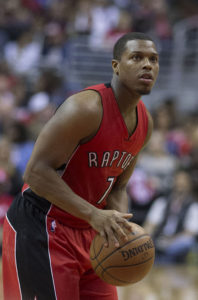 The Toronto Raptors have captivated the country of Canada over the last week, possibly even the last month. On Thursday, the Raptors won the National Basketball Association's ultimate prize when they won the Larry O'Brien championship trophy by eliminating the Golden State Warriors from the NBA Finals.
The Raptors beat the Warriors 114-110 in game six on Thursday evening from Oracle Arena in Oakland, California. With the win, the Raptors beat the Warriors four games to two for their first championship in franchise history.
There is no doubt that the Warriors were a formidable foe. They had won three of the last four NBA Finals heading into their series with the Raptors, but had significant injury issues in the 2019 NBA postseason. Kevin Durant suffered an initial lower body injury against the Houston Rockets in the Western Conference semifinals and then when he returned against the Raptors in game five of the NBA Finals, he suffered a season ending (and possibly 2019 season ending) anterior cruciate ligament injury. Then in game six, Warriors star Klay Thompson also injured his ACL, putting the Warriors in additional trouble.
In the Raptors win over the Warriors in game six, once again they had a complete team effort. Five players reached double digits in points as Kyle Lowry and Pascal Siakam each scored 26 points, Fred VanVleet and Kawhi Leonard each had 22 points and Serge Ibaka had 15 points. Siakam led the Raptors with 10 rebounds and Lowry led the Raptors with 10 assists.
It was a marvelous start for Lowry, who missed the game winning shot in game five. In game six, he scored the Raptors first 11 points. Leonard meanwhile won the Bill Russell Trophy as the most valuable player in the NBA Finals.