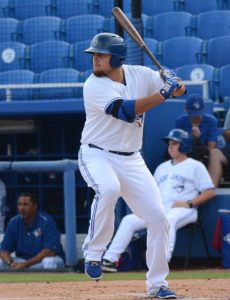 Rowdy Tellez made Toronto Blue Jays history on Wednesday when he hit a grand slam in the Blue Jays' 8-6 win over the Baltimore Orioles at Camden Yards in Baltimore, Maryland. Tellez became the first Blue Jays rookie in franchise history to record two grand slams in a season. 
Tellez recorded his grand slam against the Orioles on Wednesday in the fifth inning. The other Blue Jays who scored were third baseman Vladimir Guerrero Jr., second baseman Lourdes Gurriel Jr., and first baseman Justin Smoak.
Tellez's first grand slam in 2019 came on April 23 in a 7-6 loss to the San Francisco Giants at Rogers Centre in Toronto. Tellez's eighth inning blast also scored Eric Sogard, Richard Urena and Randal Grichuk.
Despite the two grand slams and decent power (10 home runs), the Blue Jays would probably like to see more offensive consistency from Tellez. He is only batting .227 on the season as he has 42 hits in 185 at bats. However, Tellez is still third on the Blue Jays in home runs (two back of Smoak and Grichuk) and second on the Blue Jays in runs batted in with 29 (four back of Smoak, who leads the Blue Jays with 33).
The Blue Jays are clearly in a stage of rebuilding at the moment. With a record of 24 wins and 43 losses, they are 17.5 games back of the first place New York Yankees. They are also 12 games back of the Texas Rangers for the second wildcard in the American League.