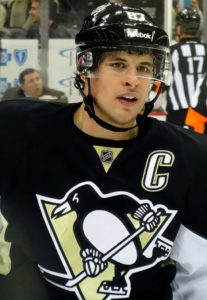 Two-time Canadian Olympic gold medalist Sidney Crosby of Cole Harbour, Nova Scotia had a strong offensive game in the Pittsburgh Penguins' 5-1 win over the Philadelphia Flyers on Sunday. Crosby notched one goal and three assists for four points.
Crosby opened the scoring at 10:25 of the first period with an even strength goal from Patric Hornqvist. He then had second period assists on goals scored within five seconds of each other. The first goal was a power play goal by Evgeni Malkin that put the Penguins up 3-0 at 6:48 of the second period and the second goal was an even strength goal by Brian Dumoulin that put the Penguins up 4-0 at 6:53 of the second period.
Crosby's fourth point of the game came at 7:08 of the third period with a power play assist on a goal by Justin Schultz of Kelowna, British Columbia which put the Penguins up 5-1. Crosby was one of three Penguins with a multi-point game. Kris Letang of Montreal, Quebec had two assists and Malkin had a goal and an assist.
Crosby also came up big in hostile territory. The Flyers fans chanted "Crosby sucks" at the Wells Fargo Center, but it was the Canadian Olympic gold medalist from the 2010 Olympic Winter Games in Vancouver and the 2014 Olympic Winter Games in Sochi that had the last laugh.
The Penguins now lead the best out of seven series two games to one. Game four of the series will now take place on Wednesday from Philadelphia.