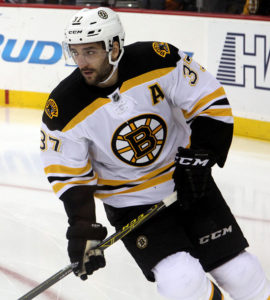 Canadian Olympic gold medalist Patrice Bergeron of L'Ancienne-Lorette, Quebec had an outstanding offensive night for the Boston Bruins in game two of their first round playoff series against the Toronto Maple Leafs on Saturday. Bergeron had four assists in a 7-3 Bruins win to take a two games to nothing lead in the best out of seven series. 
Bergeron was one of four Bruins who had three or more points. Brad Marchand of Halifax, Nova Scotia also had four assists, while David Pastrnak had three goals and three assists for six points and Torey Krug had three assists.
Bergeron recorded assists on Boston's first two goals. The first came at 5:26 of the first period on a goal by Pastrnak and the second came at 9:46 of the first period on the power play on a goal by Jake DeBrusk of Edmonton, Alberta.
Bergeron then notched two third period assists. He assisted on two more goals by Pastrnak to blow the hockey game open.
In order for the Maple Leafs to get back into the series, they will have to stop the line of Bergeron, Pastrnak and Marchand, who have combined for 20 points in the first two games. There is no doubt that Bergeron, who won the gold medal for Canada at the 2010 Olympic Winter Games in Vancouver and the 2014 Olympic Winter Games in Sochi, is still one of the most dangerous players in the National Hockey League.