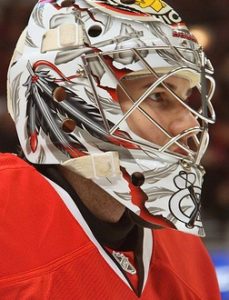 Corey Crawford of Montreal, Quebec notched his second shutout of the 2018-19 National Hockey League regular season on Saturday as the Chicago Blackhawks beat the Montreal Canadiens 2-0 at the Bell Centre in Montreal, Quebec. It was a great game for Crawford, who made 48 saves in the Chicago victory.
Crawford made 13 saves in the first period, 17 saves in the second period and 18 saves in the third period. Crawford's first shutout this season came on November 14 when he made 28 saves in a 1-0 Blackhawks win over the St. Louis Blues.
In his career, Crawford has 25 shutouts. During the 2015-16 regular season, he led the NHL with seven shutouts. In 2018-19, Crawford has a record of 12 wins, 15 regulation losses, two losses in extra time, a save percentage of .907 and a goals against average of 3.07.
Even though the Blackhawks have won three Stanley Cups in the last decade (2010, 2013 and 2015), it is going to be a challenge for them to make the playoffs in 2019. They are currently five points back of the Arizona Coyotes for a playoff spot in the Western Conference. The Blackhawks do however have momentum on their side. They currently have a five game winning streak. During the streak, they also have wins over the Buffalo Sabres, Dallas Stars, Arizona Coyotes and Toronto Maple Leafs.