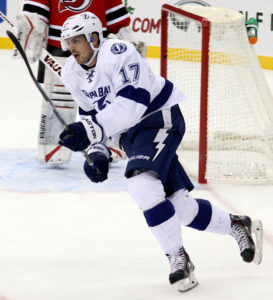 Alex Killorn of Halifax, Nova Scotia recorded his first career National Hockey League hat trick on Saturday as the Tampa Bay Lightning beat the Washington Capitals 6-3 at the Amalie Arena in Tampa, Florida on Saturday. The Lightning are currently one of the most exciting teams to watch in the National Hockey League as they have 114 points and lead the NHL by 19 points over the Boston Bruins and the surprising Calgary Flames.
Killorn scored his first goal of the game unassisted at 10:33 of the first period to put the Lightning up 2-0. He then put the Lightning up 3-1 at 15:56 of the first period from Anthony Cirelli of Etobicoke, Ontario and Mathieu Joseph of Laval, Quebec. Then with 47 seconds left in the third period, Killorn notched his hat trick on a goal from Nikita Kucherov. It has been a phenomenal season for Kucherov, who currently leads the NHL with 82 assists and 117 points.
In 72 games this season, Killorn now has 16 goals and 21 assists for 37 points. He is a +24 with 41 penalty minutes, five power play points, one game winning goal, one shorthanded goal, 140 shots on goal, two faceoff wins, 22 blocked shots, 80 hits, 25 takeaways and 20 giveaways.
The Lightning at the present time should be the overwhelming favourites to win the 2019 Stanley Cup. Do not forget, when they won the 2004 Stanley Cup Final over the Calgary Flames, the Lightning were only the second best team heading into the postseason, as they were three points back of the Detroit Red Wings.