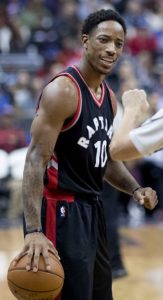 The Toronto Raptors are in control in their Eastern Conference Quarterfinal Series against the Washington Wizards. On Wednesday night at the Air Canada Centre in Toronto, DeMar DeRozan scored a game high 32 points as the Raptors beat the Wizards 108-98 to take a 3-2 lead in the best out of seven series.
The first three quarters in the contest were extremely tight. The Raptors had a 79-78 lead on Washington after 36 minutes. However in the fourth quarter, the Raptors defense came up big as they limited Washington to only 20 points while they scored 29 points themselves.
It was also a strong game for Raptors center Jonas Valanciunas. The Lithuanian had his second double double of the postseason as he notched 14 points and 13 rebounds. He was also a game high +19.
Two other Raptors players reached double digits in scoring. Point guard Delon Wright was a monster off the bench as he scored 18 points. Meanwhile, the Raptors starting point guard Kyle Lowry had 17 points.
The Raptors were also able to contain Wizards small forward Otto Porter Jr. In the Raptors' two losses in Washington, Porter Jr. had two three pointers in game three and game four of the series. On Wednesday, Porter Jr. did not knock down a three and was limited to nine points.
The Raptors need to play much better road defense if they hope to win the series in Washington on Friday. In game three, they gave up 122 points and in game four they gave up 106 points.