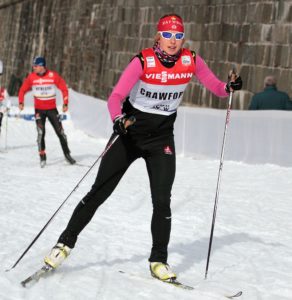 Canadian Olympic gold medalist Chandra Crawford of Canmore, Alberta was recognized with the 2018 Bruce Kidd Leadership Award at the 2018 Canadian Sport Awards in Ottawa, Ontario on Thursday. Crawford received the honour for her marvelous work as the president and founder of Fast and Female, an organization that tries to encourage girls from the ages of eight to 18 to participate in sport.
Crawford won the gold medal in the women's cross country skiing sprint at the 2006 Olympic Winter Games in Turin. 
She was one of nine Canadian Olympic gold medalists to win an award at the Canadian Sport Awards. The others were ice dance figure skaters Scott Moir and Tessa Virtue of London, Ontario, who won the Partners of the Year Award and People's Choice Award for Performance of the Year at the 2018 Olympic Winter Games in Pyeongchang. This past February, Virtue and Moir won Olympic gold in the team figure skating competition and the ice dance. They previously won Olympic gold in ice dance at the 2010 Olympic Winter Games in Vancouver. 
Other Canadian Olympic gold medalists who received an honour were curler Jill Officer of Winnipeg, Manitoba (2014 Olympic Winter Games in Sochi). who received the True Sport Award, swimmer Mark Tewksbury of Calgary, Alberta (1992 Olympic Games in Barcelona), who received the AthletesCAN Social Responsibility Award, curling team of Jennifer Jones of Winnipeg, Manitoba (which in addition to Officer, also included Dawn McEwen and Kaitlyn Lawes of Winnipeg, Manitoba), which received the winter team of the year award, and women's hockey player Sami Jo Small of Winnipeg, Manitoba (2002 Olympic Winter Games in Salt Lake City and 2006 Olympic Winter Games in Turin), who received the inclusion award.