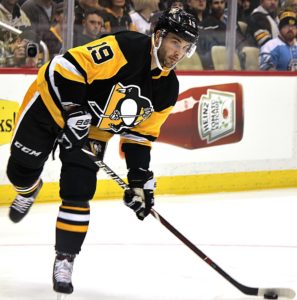 According to Andrew Joe Potter of The Score on Wednesday, the Arizona Coyotes have signed center Derick Brassard of Hull, Quebec to a one-year contract worth $1.2 million. The Coyotes become Brassard's eighth team as he has also played with the Columbus Blue Jackets, New York Rangers, Ottawa Senators, Pittsburgh Penguins, Florida Panthers, Colorado Avalanche, and New York Islanders.
In 2019-20, Brassard played 66 games for the Islanders. He had 10 goals and 22 assists for 32 points. Brassard also was a -2 with 16 penalty minutes, 10 power-play points, one game-winning goal, 110 shots on goal, 197 faceoff wins, 24 blocked shots, 115 hits, 26 takeaways, and 40 giveaways.
Brassard scored his lone game-winning goal in 2019-20 in a 1-0 Islanders win over the Buffalo Sabres on November 2, 2019. Then in the playoffs, he had two goals and six assists for eight points. Brassard was also a +1 with six penalty minutes, 34 shots on goal, 37 faceoff wins, four blocked shots, 39 hits, 10 takeaways, and 10 giveaways.
At 33 years of age, Brassard brings experience to the Coyotes organization. He has played in 852 National Hockey League regular season games, and another 117 playoff games. Initially, a first round draft pick, sixth overall, in the 2006 NHL Entry Draft by the Blue Jackets, Brassard played his junior hockey with the Drummondville Voltigeurs of the Quebec Major Junior Hockey League. On the international scene, Brassard won a gold medal for Canada at the 2016 International Ice Hockey Federation World Men's Hockey Championship in Russia.