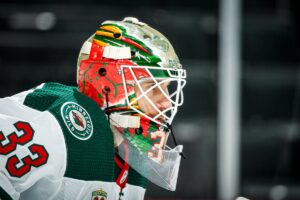 Cam Talbot of Caledonia, Ontario has been outstanding for the Minnesota Wild as of late. The veteran National Hockey League goaltender has won his last three games, and has only given up three goals in that time period.
Talbot made 24 saves on 25 shot attempts this past Monday in a 2-1 win over the Anaheim Ducks. That was followed by a 3-2 Wild win over the Ducks on Wednesday, and a 37-save shutout performance on Thursday in a 2-0 Wild win over the St. Louis Blues.
In the shutout on Thursday, Talbot made 10 saves in the first period, 14 saves in the second period and 13 saves in the third period. David Perron of Sherbrooke, Quebec led the Blues with nine shots on goal. The Minnesota goal scorers were Marcus Johansson and Kirill Kaprizov.
Talbot now has 24 career shutouts and two this season. His other shutout in 2019-20 came in a 4-0 Wild win over the Arizona Coyotes on March 12.
The Wild have a record of 21 wins, 10 regulation losses and one loss in extra time. They are currently in third place in the West Division with 43 points. Minnesota is four points back of the division-leading Vegas Golden Knights for first place, and six points up on the Arizona Coyotes for a playoff spot.