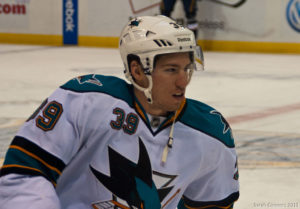 Logan Couture of Guelph, Ontario recorded his first career National Hockey League postseason hat trick on Tuesday as the San Jose Sharks defeated the Colorado Avalanche 4-2 at the Pepsi Center in Denver, Colorado. With the win, the Sharks lead the best out of seven Western Conference second round playoff series two games to one.
Couture opened the scoring for the Sharks at 15:24 of the first period from Gustav Nyquist and Timo Meier. He then scored the game winning goal at 12:50 of the third period from Nyquist and Meier again which put the Sharks up 3-2. Couture then notched his hat trick into an empty net from Melker Karlsson with 30 seconds left in the third period to close out the scoring and put the Sharks up 4-2. Game four of the series is Thursday evening in Denver.
Meanwhile in Columbus, two Canadians scored for the Blue Jackets in their 2-1 win over the Boston Bruins at Nationwide Arena in the capital city of Ohio. Boone Jenner of Dorchester, Ontario scored in the first period and Canadian Olympic gold medalist Matt Duchene of Haliburton, Ontario scored in the second period. The Blue Jackets now have a two games to one series lead in their best out of seven Eastern Conference second round series. Game four of that series goes Thursday in Columbus. Duchene meanwhile won a gold medal for Canada at the 2014 Olympic Winter Games in Sochi.