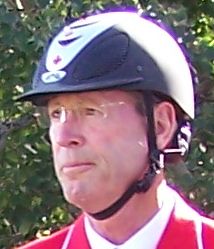 Canadian Olympic silver medalist Ian Millar of Halifax, Nova Scotia retired from equestrian on Wednesday at the age of 72. Millar won the Olympic silver medal for Canada in team show jumping with Eric Lamaze of Montreal. Quebec, Mac Cone of King City, Ontario and Jill Henselwood of Ottawa, Ontario at the 2008 Olympic Games in Beijing. He holds the record for the most international appearances at an Olympic Games with 10.
Millar is one of the greatest equestrian riders in the history of show jumping. During his prime while riding on the horse Big Ben, the duo won 40 Grand Prix titles and four gold medals at the Pan American Games. When Big Ben passed away in 1999, Millar went on to compete in equestrian for 20 more years and rode the horse In Style to a team Olympic silver medal.
Prior to winning the 2014 Masters Tournament at Spruce Meadows in south Calgary with his horse Dixson, I had the opportunity to interview Millar at the Spruce Meadows media luncheon for the Canadian Encyclopedia. In a very comprehensive interview, Millar discusses his remarkable athletic career. To read the interview, please click here.
Millar's 2014 win at the Masters in Spruce Meadows was the third time he won the event in his career. He also won the event in 1987 and 1991 while riding on Big Ben. Millar's other greatest accomplishment was winning two World Cup Finals in back-to-back years in 1988 and 1989. Millar was named to the Order of Canada in 1986, Canada's Sports Hall of Fame in 1996 and the Ontario Sports Hall of Fame in 2013.