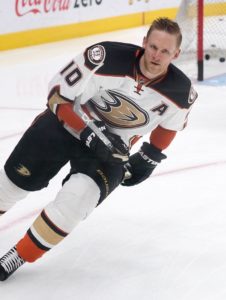 Canadian Olympic gold medalist Corey Perry of London, Ontario scored his fifth career playoff overtime winner on Saturday as the Dallas Stars defeated the Tampa Bay Lightning 3-2 in double overtime in game five of the 2020 Stanley Cup Finals from Rogers Place in Edmonton, Alberta. It was one of two goals for Perry in the game as he now has five goals in the 2020 Stanley Cup Playoffs. The Stars prevented elimination with the win, but still trail the Lightning three games to two in the best out of seven series.
Perry was one of two Canadians to have a multi-point game for the Stars. Tyler Seguin of Brampton, Ontario had three assists.
Perry's four previous playoff overtime winners came with the Anaheim Ducks. The first came in game five of the Western Conference semifinals in a 3-2 win over the Calgary Flames on May 10, 2015. The second came in game three of the Western Conference quarterfinals in a 5-4 win over the Flames on April 17, 2017. The third came in game five in double overtime of the Western Conference semifinals in a 4-3 win over the Edmonton Oilers on May 5, 2017. The fourth came in game four of the Western Conference Finals in a 3-2 win over the Nashville Predators on May 18, 2017.
Perry is now third all-time in playoff overtime winners with five. Canadian Olympic gold medalist Joe Sakic of Burnaby, British Columbia has the record with eight overtime playoff winners. He is followed by Maurice Richard of Montreal, Quebec, who has six overtime winners. Sakic won the gold medal for Canada at the 2002 Olympic Winter Games in Salt Lake City. Perry won the gold medal for Canada at the 2010 Olympic Winter Games in Vancouver and the 2014 Olympic Winter Games in Sochi.