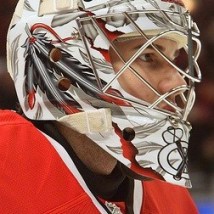 After 14 seasons with the Chicago Blackhawks, Corey Crawford of Montreal, Quebec signed a two-year deal worth $7.8 million with the New Jersey Devils on October 9. There, he was to share goaltending duties this season with MacKenzie Blackwood of Thunder Bay, Ontario.
However, Crawford missed a significant part of Devils training camp for personal reasons, and announced on Friday he would take an indefinite leave of absence. Then on Saturday according to The Canadian Press, Crawford outright retired.
A second-round draft pick, 52nd overall in the 2003 National Hockey League Entry Draft, Crawford would play 488 games with the Blackhawks, and have a record of 260 wins, 162 regulation losses, and 53 losses in extra time. Crawford had 26 shutouts, a goals against average of 2.45, and a save percentage of .918.
A two-time Stanley Cup champion, Crawford was the Blackhawks goaltender when they won the Stanley Cup in 2013 over the Boston Bruins, and in 2015, when they beat the Tampa Bay Lightning. In the playoffs, Crawford had a record of 52 wins, 42 losses, a goals against average of 2.38, and a save percentage of .918.
Also a two-time All-Star with the Blackhawks in 2015 and 2017, Crawford won the William M. Jennings Trophy in 2013 and 2015. Then in 2015-16, Crawford led the NHL in shutouts with seven.
Crawford also represented Team Canada once. He was the backup goaltender to Carey Price at the 2016 World Cup of Hockey in Toronto. Crawford made 19 saves in a 4-1 Canada win over Europe in Group A action.