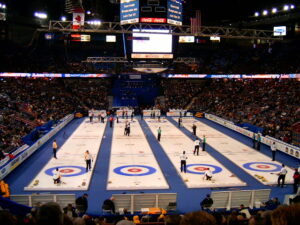 According to Eloise Therien of Global News on Friday, Lethbridge, Alberta has been named the host city of the 2022 Tim Hortons Brier. The announcement of Lethbridge may have come as somewhat of a surprise because Kelowna, British Columbia was to host the 2021 Tim Hortons Brier, but missed out on the opportunity because of coronavirus. The 2021 Tim Hortons Brier is also being held in Alberta but without spectators, as Calgary is the host city in a bubble format.
This will be the 16th time that the province of Alberta has hosted the Canadian men's curling championship, and the first time in Lethbridge. Calgary is set to host its eighth Tim Hortons Brier in March. Edmonton has been the host six times, and Red Deer has been the host city once.
Lethbridge has hosted the Scotties Tournament of Hearts on two prior occasions, and both times teams from British Columbia were victorious. In 1987, Pat Sanders of Victoria won the Canadian Women's Curling Championship representing British Columbia, and two decades later Kelly Scott of Kelowna defended her Scotties title representing Team Canada. Interestingly, Sanders and Scott were both natives of Manitoba. Sanders was from Neepawa, and Scott was from Winnipeg.
Lethbridge has also hosted the 2012 Women's World Curling Championship, and the 2019 World Men's Curling Championship. The 2012 Women's World Curling Championship was won by Switzerland with Canada winning bronze. The 2019 World Men's Curling Championship was won by Sweden, with Canada winning silver.