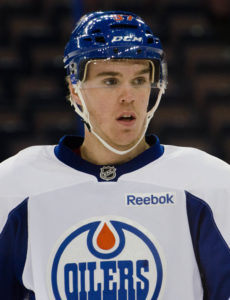 Connor McDavid of Richmond Hill, Ontario notched his ninth career National Hockey League hat trick on Saturday. McDavid scored thrice and had two assists as the Edmonton Oilers trounced the Calgary Flames 7-1 at Rogers Place in Edmonton.
McDavid also registered a five-point night. He now leads the NHL with 25 assists, 37 points, and 78 shots on goal.
In the Oilers' win by six goals over the Flames on Saturday, the Oilers captain picked up a primary assist on a power-play goal by Alex Chiasson of Montreal, Quebec, at 3:29 of the first period to put the Oilers up 1-0. He then picked up his second assist on a goal by Ryan Nugent-Hopkins of Burnaby, British Columbia, at 5:41 of the first period to put the Oilers up 2-0.
After the Flames pulled within one goal on a power-play marker by Andrew Mangiapane of Toronto, Ontario, McDavid scored the next three goals of the game. At 17:11 of the first period, he scored from Tyson Barrie of Victoria, British Columbia, and Nugent-Hopkins to put the Oilers up 3-1. He then scored from an unassisted goal at 1:06 of the second period to put the Oilers up 4-1, and then his hat trick goal at 8:12 of the second period from Kris Russell of Caroline, Alberta, and Jujhar Khaira of Surrey, British Columbia, to put the Oilers up 5-1.
Nugent-Hopkins would score a second goal for the Oilers in the third period. The other Oilers scorer was Josh Archibald of Regina, Saskatchewan.
McDavid was one of four Oilers to register a multi-point game. Nugent-Hopkins had two goals and one assist for three points, Darnell Nurse of Hamilton, Ontario had two assists, and Leon Draisaitl had two assists.
With the win, the Oilers improved to a record of 12 wins and eight losses for 24 points. They are in second place in the North Division, and six points back of the Toronto Maple Leafs for the division lead.