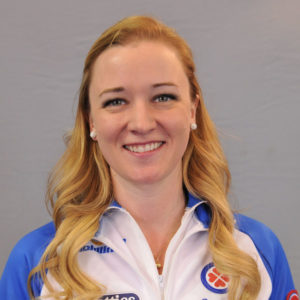 Chelsea Carey of Winnipeg, Manitoba came into the 2021 Scotties Tournament of Hearts in Calgary, Alberta, in a challenging situation. She was asked to come in and skip for one of the three Wildcard teams, due to the fact Tracy Fleury wanted to be with her daughter who was suffering from a rare form of epilepsy after being born in July.
On Saturday, Fleury's top wildcard team skipped by Carey, came through with a very impressive 9-2 clobbering over Manitoba's Jennifer Jones, the six-time Scotties champion and gold medalist from the 2014 Olympic Winter Games in Sochi. Jones struggled mightily with the hammer, as she gave up five consecutive points from the third to the sixth ends. The first-ranked wildcard team constantly put pressure on Jones throughout the match, and Jones's coach Viktor Kjall was reportedly very disappointed with the team's lack of energy.
With the loss, Manitoba fell to a record of one win and one loss. Team Fleury, skipped by Carey, are at two wins and zero losses. They are one of two undefeated teams in Pool B. The other is Prince Edward Island's Suzanne Birt. On Sunday, Birt came back from a 5-1 deficit after four ends, and a 6-4 deficit after eight ends to beat Saskatchewan 7-6. Prince Edward Island later trounced New Brunswick 12-4, in a game that saw Birt have a dominating 9-0 lead after only four ends of play.