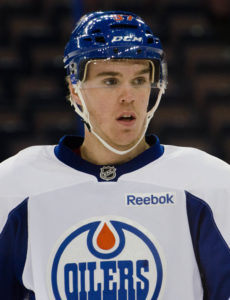 Edmonton Oilers centre Connor McDavid of Richmond Hill, Ontario reached 600 points in the sixth fewest games in National Hockey League regular season history on Sunday according to ESPN. McDavid accomplished the feat with a goal from Zach Hyman of Toronto, Ontario, and Cody Ceci of Ottawa, Ontario with only five seconds left in the first period in a 5-4 Oilers win over the St. Louis Blues from the Enterprise Center in St. Louis, Missouri. The goal tied the game at one goal apiece.
It was one of two points McDavid recorded on Sunday. He notched his 601st regular season career point with an assist on a power play goal by Leon Draisaitl at 2:51 of the second period, which put the Oilers top 2-1 at the time. For his career, McDavid now has 205 goals and 396 assists.
Of the five players who have reached 600 points in fewer games to begin their NHL careers are three Canadians. They are former Edmonton Oilers centre Wayne Gretzky of Brantford, Ontario (274 games), former Pittsburgh Penguins centre Mario Lemieux of Montreal, Quebec (323 games), and former New York Islanders right winger Mike Bossy of Montreal, Quebec (400 games). The two other players have Canadian connections. Former Quebec Nordiques center Peter Stastny reached 600 points in 394 games and former Oilers right winger Jari Kurri reached 600 points in 419 games.