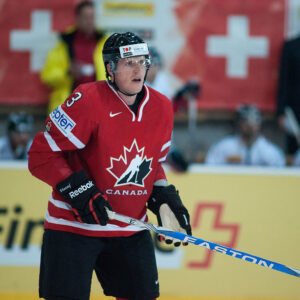 According to Ryan Dixon of Rogers Sportsnet, National Hockey League defenseman Dion Phaneuf of Edmonton, Alberta, retired at age 36. Phaneuf played 14 seasons in the NHL with the Calgary Flames, Toronto Maple Leafs, Ottawa Senators and Los Angeles Kings from 2005 to 2019, and retired as a member of the Maple Leafs.
In 1048 games, Phaneuf had 137 goals and 357 assists for 494 points. He was a -57 with 1345 penalty minutes, 246 power-play points, nine shorthanded points, 28 game-winning goals, and 2514 shots on goal.
Of Phaneuf's nine shorthanded points, he had two shorthanded goals. They came in a 5-4 Flames win over the Minnesota Wild on March 22, 2008, and in a 3-2 Senators win over the Dallas Stars on February 9, 2017.
In the playoffs, Phaneuf had seven goals and 14 assists for 21 points in 55 games. He was a -22 with 49 penalty minutes, three power-play goals, one game-winning goal, and 107 shots on goal.
The game-winning goal Phaneuf scored in the Stanley Cup Playoffs came on April 15, 2017. It was an overtime winner for the Senators in game two of the Senators' first round playoff series with the Boston Bruins. Mark Stone of Winnipeg, Manitoba picked up the lone assist. Ottawa won the game 4-3, and won the series four games to two.
Phaneuf was originally the Flames' first round pick, ninth overall, in the 2003 NHL Entry Draft. He played his junior career with the Red Deer Rebels. While with Team Canada, he won a gold medal at the 2005 World Junior Hockey Championship in Grand Forks, and a gold medal at the 2007 World Hockey Championship in Moscow.