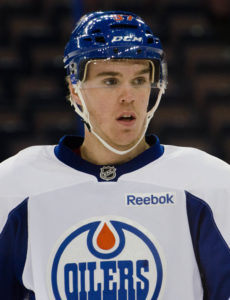 Edmonton Oilers captain Connor McDavid of Richmond Hill, Ontario was named the National Hockey League player of the week for the second time this season on Monday. For the week from November 11-17, 2019, McDavid had three goals and seven assists for 10 points.
McDavid began the week by picking up an assist on a goal by Zack Kassian of Windsor, Ontario in a 6-3 Oilers loss to the San Jose Sharks on November 12. He then had a career high six points (three goals and three assists) in a 6-2 Oilers win over the Colorado Avalanche on November 14. McDavid then had three assists in a 5-4 Oilers overtime loss to the Dallas Stars on November 16.
So far this season, McDavid has 14 goals and 26 assists for 40 points in 22 games. He is a +5 with 12 penalty minutes, 18 power play points, two game winning goals, 76 shots on goal, 86 faceoff wins, eight blocked shots, eight hits, 17 takeaways and 24 giveaways.
McDavid is second in the NHL at the moment in assists and points. Remarkably, it is his Oilers teammate Leon Draisaitl that leads the NHL in each category as he has 27 assists and 43 points.
The Oilers remarkably lead the Pacific Division at the moment with 29 points. They have one more point than the Arizona Coyotes, who have 28 points.