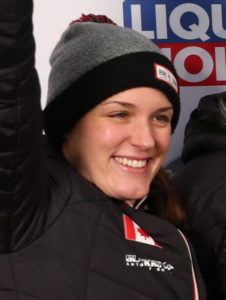 Team Canada has won their second medal in Olympic women's bobsled test events in Yanqing, China. On Tuesday, Christine De Bruin of Edmonton, Alberta and Kristen Bujnowski of London, Ontario placed third in the two-woman bobsled event.
De Bruin and Bujnowski had a third-place time of two minutes, 5.38 seconds. They reached the podium by 0.19 seconds over the Romanian duo of Andreea Grecu and Katharina Wick, who posted a time of two minutes, 5.57 seconds.
Meanwhile, two German bobsled teams won the gold and silver medals. Laura Nolte and Deborah Levi won the gold medal with a time of two minutes, 4.99 seconds. Mariama Jamanka and Vanessa Mark won the silver medal with a time of two minutes, 5.21 seconds.
The bronze medal for De Bruin and Bujnowski were one of two medals won by Team Canada in Yanqing this week. On Monday, Cynthia Appiah of Toronto, Ontario won the bronze medal in the women's monobob.
The women's monobob competition will be making its Olympic debut at the 2022 Olympic Winter Games in Beijing. The event was part of the 2021 World Bobsleigh and Skeleton Championships in Altenberg, Germany, and was won by controversial women's bobsledder Kaillie Humphries of the United States. Humphries, who has won three medals for Canada at the Olympic Games in the past, is trying to represent the United States in Beijing in February.