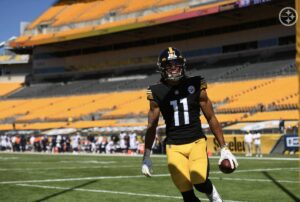 According to David Morassutti of Rogers Sportsnet,  Chase Claypool of Abbotsford, British Columbia set the record on Sunday for the most touchdowns in a National Football League game by a Canadian. Claypool recorded a remarkable four touchdowns for the Pittsburgh Steelers in a 38-29 win over the Philadelphia Eagles.
Claypool, who was the Steelers' second round draft pick, 49th overall, out of the University of Notre Dame, had three touchdowns receiving and one touchdown rushing. He opened the scoring with a two-yard-run at 13:56 of the first quarter to close out a 14-play Steelers drive and put the Steelers up 7-0.
Claypool then caught a 32 yard touchdown pass from Steelers quarterback Ben Roethlisberger in the second quarter, a five yard touchdown pass from Roethlisberger in the third quarter, and a 35 yard touchdown pass from Roethlisberger in the fourth quarter to close out the scoring.
Claypool's statistical line was seven catches for 110 yards, along with three rushes for six yards. He also leads the Steelers in receiving yards (261) and touchdowns (four). Claypool's four touchdown catches puts him sixth in the NFL. He is behind Adam Thielen of the Minnesota Vikings and Mike Evans of the Tampa Bay Buccaneers, who lead the NFL with six touchdowns each, along with Robert Tonyan of the Green Bay Packers, Mark Andrews of the Baltimore Ravens and DK Metcalf of the Seattle Seahawks, who have five touchdowns each.
Claypool broke the record previously set by Rueben Mayes of North Battleford, Saskatchewan. Mayes had three rushing touchdowns for the New Orleans Saints in a 28-7 win over the Phoenix Cardinals on September 23, 1990.
Claypool also became the first Steelers rookie to ever have four touchdowns in a game. Pittsburgh meanwhile has a record of four wins and zero losses. They are one of five teams in the NFL that have a perfect record. The Seattle Seahawks are at 5-0. The Green Bay Packers and Buffalo Bills are each at 4-0, and the Tennessee Titans are at 3-0.