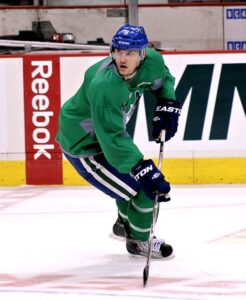 The Calgary Flames improved their blueline on Saturday with the acquisition of defenseman Chris Tanev of Toronto, Ontario from the Vancouver Canucks. According to NBC Sports, Tanev signed a four year deal worth $18 million.
Over the last decade, Tanev has been a mainstay on the Canucks blueline. Now the 30-year-old righthand shooting blueliner will stay in the Pacfic Division and in Canada.
In 2019-20, Tanev had two goals and 18 assists for 20 points. His assist and point totals tied for career highs as he also reached those totals during the 2014-15 season. As well in 2019-20, Tanev was a +4 with 41 penalty minutes, one game winning goal, one power play point, one shorthanded point, 45 shots on goal, 159 blocked shots, 32 hits, 20 takeaways, and 45 giveaways.
Tanev had the game winning goal for the Canucks in a 5-4 win over the Vegas Golden Knights on December 19, 2019. He scored from Bo Horvat of London, Ontario and Brock Boeser at 1:30 of the extra period.
Tanev also registered his shorthanded and power play point this past season in Canucks wins. The shorthanded point came from an assist on a goal by Jay Beagle of Calgary, Alberta on October 20, 2019, in a 3-2 Canucks win over the New York Rangers. The powerplay point came from an assist on a goal by J.T. Miller on December 21, 2019, in a 4-1 Canucks win over the Pittsburgh Penguins.
On August 7, Tanev scored for Vancouver in overtime at the 11 second mark of game four of the Western Conference Stanley Cup playoff qualifier. The Canucks beat the Minnesota Wild 5-4. In 17 playoff games in 2019-20, Tanev had one goal and six assists for seven points.
The Calgary Flames have been mighty impressed with former Canucks players so far. In addition to Tanev, the Flames acquired goaltender Jacob Markstrom to a six year deal worth $36 million on Friday.