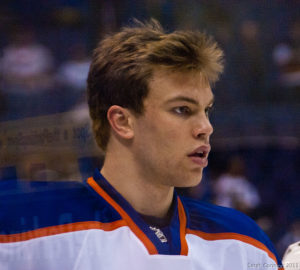 The Buffalo Sabres signed two Canadians on the weekend to significant contracts. On Saturday, they signed center Cody Eakin of Winnipeg, Manitoba, to a two-year contract worth $4.5 million from the Winnipeg Jets, and then on Sunday, they signed Taylor Hall of Calgary, Alberta, to a one-year contract worth $8 million from the Arizona Coyotes.
Eakin is joining his fifth National Hockey League team. In addition to the Jets, he has played for the Washington Capitals, Dallas Stars and Vegas Golden Knights.
Last season with Vegas and Winnipeg, Eakin had five goals and 10 assists for 15 points. He was a -3 with 16 penaty minutes, one game winning goal, one power play assist, 61 shots on goal, 311 faceoff wins, 16 blocked shots, 49 hits, 23 takeaways and 21 giveaways. Eakin's game winning goal came in a 4-2 Jets win over Taylor Hall and the Arizona Coyotes on March 9. Eakin scored from Nikolaj Ehlers and Patrik Laine at 11:33 of the third period to break up a 2-2 deadlock.
Hall is joining his fourth NHL team. In addition to the Coyotes, he has played for the Edmonton Oilers and New Jersey Devils. Known as one of the premier snipers in the NHL today, Hall had 16 goals and 36 assists for 52 points in 65 games last season. He was a -14 with 34 penalty minutes, 18 power play points, one game winning goal, 232 shots on goal, 20 faceoff wins, 29 blocked shots, 47 hits, 41 takeways and 52 giveaways.
Hall's game winning goal this past season came in a 5-2 Coyotes win over the Florida Panthers on January 7. Throughout Hall's NHL career he is known for being the league's first overall pick by the Oilers in the 2010 NHL Entry Draft, and winning the Hart Trophy as the NHL's most valuable player in 2018. That year with the Devils, he had career highs in goals (39), assists (54), and points (93).