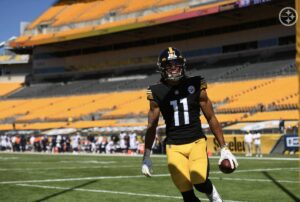 Chase Claypool of Abbotsford, British Columbia made history on Sunday by setting the record for the longest touchdown from scrimmage by a Canadian in the National Football League. Claypool set the record by catching an 84 yard touchdown pass from Steelers quarterback Ben Roethlisberger in a 26-21 Pittsburgh win over the Denver Broncos according to the Canadian Press. 
Claypool had three catches for 88 yards in the five-point Steelers win. After the first two regular season games of the season, Claypool has five catches for 127 yards. In the Steelers opening game of 2020, a 26-16 win over the New York Giants on September 14, Claypool had two catches for 39 yards, along with one rush for eight yards.
The Steelers are in a first place tie in the AFC North with the Baltimore Ravens. The divisional foes should battle for first place all season long. However, one must realize that both teams should safely reach the postseason due to the fact that there are seven teams from each conference that will now make the NFL playoffs.
In addition to the Steelers and Ravens, there are eight other teams that have a record of two wins and zero losses. They are the Buffalo Bills, Kansas City Chiefs, Tennessee Titans, Seattle Seahawks, Arizona Cardinals, Los Angeles Rams, Green Bay Packers and Chicago Bears. Meanwhile, the winner of the Monday nighter between the Las Vegas Raiders and New Orleans Saints will also move to a record of two wins and zero losses.