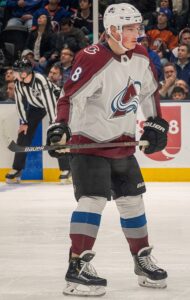 Cale Makar of Calgary, Alberta has won the 2020 Calder Trophy for the National Hockey League Rookie of the Year. Makar becomes the sixth player in the Quebec Nordiques/Colorado Avalanche franchise to win the award, and second Canadian on the Nordiques/Avalanche to be named rookie of the year, following Nathan MacKinnon of Springhill, Nova Scotia who won in 2014.
Makar had 12 goals and 38 assists for 50 points in 57 games in 2019-20. He also was a +12 with 12 penalty minutes, four power play goals, 19 power play points, four game winning goals, 121 shots on goal, 47 blocked shots, 45 hits, 34 takeaways, and 40 giveaways. Makar beat out finalists Quinn Hughes of the Vancouver Canucks, and Dominik Kubalik of the Chicago Blackhawks. Like Makar, Hughes is a defenseman.
Makar's path to the National Hockey League was unconventional. Unlike most western Canadians who chose the Western Hockey League, Makar chose the Alberta Junior Hockey League instead. He played for the Brooks Bandits from 2014 to 2017, before two seasons at the University of Massachusetts-Amherst. Makar was originally the Avalanche's first round draft pick, fourth overall, in the 2017 National Hockey League Entry Draft. When selected by Colorado, Makar became the second highest player taken from the Canadian Junior Hockey League in NHL history. The only player selected higher was Kyle Turris of New Westminster, British Columbia, who was selected third overall by the Phoenix Coyotes from the Burnaby Express of the British Columbia Hockey League in 2007.