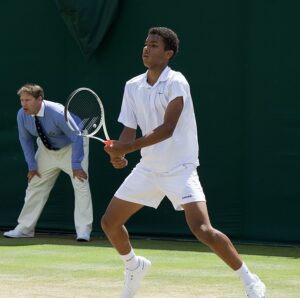 Canada has not yet won the Davis Cup in its 122 year history, but they are now winners of the ATP Cup after only three years of its existence. On Sunday, Canada defeated Spain two matches to none in this elite men's team tennis competition.
In Sydney, Australia, Felix Auger-Aliassime of Montreal, Quebec and Denis Shapovalov of Toronto, Ontario teamed up for Canada in the men's singles matches. Auger-Aliassime defeated Spain's Roberto Bautista Agut 7-6, 6-3, after Shapovalov defeated Pablo Carreno Busta 6-4, 6-3. A doubles match was not required as Canada had already taken the title with two singles wins.
Shapovalov's serve worked extremely well in his win over Carreno Busta. He had seven aces, compared to only one for Carrreno Busta. Shapovalov also broke Carreno Busta thrice.
Auger-Aliassime meanwhile had 15 aces compared to zero aces for Bautista Agut. The veteran Spaniard only won 41% of his second serve points.
In an interesting note, Spain's top tennis player Rafael Nadal, decided not to participate in the ATP Cup, and entered an ATP event in Melbourne, Australia instead. Nadal reached the final where he beat American Maxime Cressy 7-6, 6-3. It was Nadal's 89th ATP title of his career, but only the first at the 250 point level since winning the 2015 Stuttgart Open in Germany over Viktor Troicki of Serbia, 7-6, 6-3.