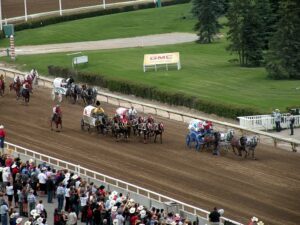 Chanse Vigen of Calgary, Alberta became the aggregate leader on Saturday after the second day of chuckwagon racing at the 2023 Calgary Stampede. Vigen, who is sponsored by KMA Construction, had the fastest time on Saturday of 1:10.57.
Vigen beat Kurt Bensmiller of Dewberry, Alberta by .09 seconds. Bensmiller, who as we documented yesterday, is a former hockey player in the Saskatchewan Junior Hockey League, had a second place time of 1:10.66, and is sponsored by the Grey Eagle Resort & Casino. Meanwhile in third place was Kris Molle of Chauvin, Alberta with a time of 1:10.89. Molle was riding for Graf Mechanical Limited. It is ironic that Molle is sponsored by Graf Mechanical Limited while Wimbledon is currently taking place in England. Steffi Graf is a seven-time Wimbledon champion, as she won in 1988, 1989, 1991, 1992, 1993, 1995 and 1996.
Vigen's aggregate leading time is 2:22.09. Bensmiller is second with a time of 2:22.76. Rae Croteau Jr. of Rapid View, Saskatchewan is third with a time of 2:24.13, Croteau Jr. is sponsored by Dynamic Capital and Custom Truck Capital.
In the rodeo, Zeke Thurston of Big Valley, Alberta finished in second place in the saddle bronc with a score of 85 points on Saturday. Leon Fountain of Corona, New Mexico had the best score of 86.5 points. Thurston is now at $11,000 and is second place in the aggregate Pool A standings, as he has $3,000 less than Fountain, who has $14,000. The only other Canadian who is in the top three in the aggregate standings is Clint Laye of Cadogan, Alberta, in the bareback division. Laye is in second place at $8750, and trails Cole Reiner of Buffalo, New York, who is at $9,000.