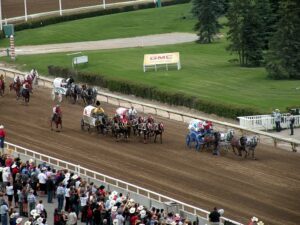 Jamie Laboucane of Saint Walburg, Saskatchewan had the fastest time on the opening night of the 2023 Calgary Stampede. The 36-year-old's time was one minute, 11.43 seconds, He was .09 seconds faster than Chanse Vigen of Calgary, Alberta, who had a second place time of one minute, 11.52 seconds and 0.67 seconds faster than Kurt Bensmiller of Dewberry, Alberta, who has a third place time of one minute, 12.1 seconds.
Bensmiller was a former hockey player, and known for being an enforcer. He played two seasons with the Battlefords North Stars of the Saskatchewan Junior Hockey League from 2002 to 2004. In 93 games, Bensmiller had 31 goals and 44 assists for 75 points and 452 penalty minutes. He then played four games in the Ligue Nord-Americaine de Hockey and had zero points and 18 penalty minutes with the Laval Chiefs and Thetford Mines Prolab during the 2004-05 season.
Meanwhile in rodeo action from Friday, three Canadian cowboys finished in the top three after day one. In the saddle bronc, Zeke Thurston of Big Valley, Alberta, was in second place with a score of 85.5 points. He was one point back of Leon Fountain of Corona, New Mexico, who had 86.5 points. In the bareback, Clint Laye of Cadogan, Alberta was in second place with a score of 86 points. He was one point back of Tim O'Connell of Zwingle, Iowa, who had 87 points. In the tie-down roping, Beau Cooper of Stettler, Alberta was in third place with a time of 8.5 seconds. He was behind Michael Otero of Lowndesboro, Alabama, ho had a time of 7.6 seconds, and Marcos Costa of Iretama, Puerto Rico, who had a time of 8.4 seconds.