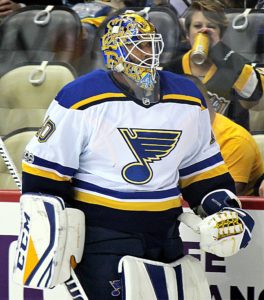 Carter Hutton of Thunder Bay, Ontario recorded his 12th career National Hockey League shutout on Monday. Hutton made 25 saves for the Buffalo Sabres in a 4-0 win over the Dallas Stars.
Hutton made five saves in the first period, eight saves in the second period and 12 saves in the third period. Radek Faksa and John Klingberg co-led the Stars with four shots on goal each.
In Hutton's career, he has had seven shutouts with the St. Louis Blues and four shutouts with the Nashville Predators. This was Hutton's first career shutout with the Sabres.
Offensively in the Sabres' win over the Stars, two Canadians scored for Buffalo. Sam Reinhart of Vancouver, British Columbia scored at 17:56 of the second period to put the Sabres up 2-0 and Jeff Skinner of Markham, Ontario scored at 4:20 of the third period to put the Sabres up 3-0.
It has only been a very small sample size, but Hutton has been excellent so far in the 2019-20 NHL regular season. In four games, Hutton has won all four of his contests, has a goals against average of 1.74 and a save percentage of .931.
With the win, the Sabres move into first place in the Atlantic Division. They have a record of five wins and an overtime loss for 11 points overall.