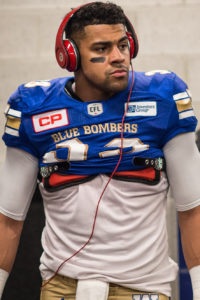 Andrew Harris of Winnipeg, Manitoba set a career high in rushing yards on Saturday as the Winnipeg Blue Bombers beat the Montreal Alouettes 35-24 in Canadian Football League action. Harris ran for a career best 166 rushing yards including one touchdown. Harris's major score came three minutes and 14 seconds into the game to put Winnipeg up 6-0.
Harris's previous high was 158 yards in the 2018 Labour Day Weekend Classic between the Blue Bombers and Saskatchewan Roughriders on September 2, 2018. Fred Reid holds the Blue Bombers record for most rushing yards in a single game with 260. He accomplished that record in a 37-10 win over the British Columbia Lions on August 23, 2009. Ron Stewart of Toronto, Ontario has the Canadian Football League record for most rushing yards in a game. He had a remarkable 287 rushing yards in a 51-21 Ottawa Rough Riders win over the Montreal Alouettes on October 10, 1960.
A second Canadian had an outstanding offensive performance on the weekend. Hergy Mayala of Montreal, Quebec caught his first two CFL touchdown passes for the Calgary Stampeders in a tight 30-28 win over the Saskatchewan Roughriders on Friday. The rookie from the University of Connecticut caught his first career CFL touchdown on an eight yard pass from Bo Levi Mitchell with 2:31 left in the first half which put the Stampeders up 19-15. Mayala then had a 19 yard touchdown catch from Mitchell with 5:55 left in the third quarter which put the Stampeders up 26-18. Mayala finished the game with seven catches for 70 yards.
In other CFL action, the Edmonton Eskimos clinched a playoff spot with a 19-6 win over the British Columbia Lions. Also, the Toronto Argonauts beat the Ottawa Red Blacks 28-21.