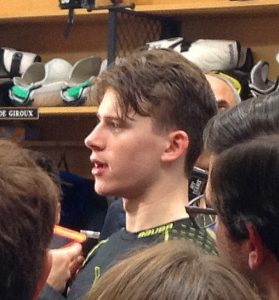 Carter Hart of Sherwood Park, Alberta recorded his sixth career National Hockey League shutout on Tuesday. He accomplished the feat in a 2-0 Philadelphia Flyers win over the Vancouver Canucks from the Wells Fargo Center in Philadelphia, Pennsylvania.
Hart made 25 saves overall. He made 11 saves in the first period, three saves in the second period, and 11 more saves in the third period. All of Hart's six career shutouts in the NHL have been with the Flyers.
On Tuesday, three Canadians registered a point for the Flyers. Travis Konecny of London, Ontario, and Scott Laughton of Oakville, Ontario picked up assists on the game-winning goal by defenseman Yegor Zamula. For Zamula of Chelyabinsk, Russia, it was Zamula's first National Hockey League career goal. Then Sean Couturier of Bathurst, New Brunswick scored on a penalty shot with two minutes and 37 seconds left in the first period.
This was Hart's second win of the season. He previously beat the Columbus Blue Jackets 4-2 on October 12. In three games, Hart has a record of two wins, one loss, and one shutout, with a goals against average of 2.35 and a save percentage of .921. He has given up a total of seven goals in 179 minutes of work to date.