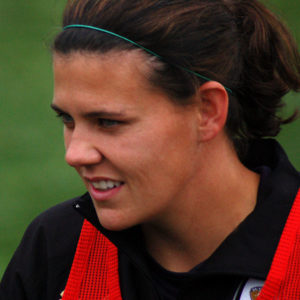 Canadian Olympic gold medalist Christine Sinclair of Burnaby, British Columbia has retired from international soccer at age 40. While she is hanging up the cleats for Team Canada, she is still expected to play for the Portland Thorns of the National Women's Soccer League.
Sinclair won a gold medal for Canada at the 2020 Olympic Games in Tokyo in 2021. She also won the bronze medals for Canada at the 2012 Olympic Games in London and the 2016 Olympic Games in Rio de Janeiro. In addition to Olympic gold, she was part of Team Canada that won gold at the 2011 Pan American Games in Guadalajara, Mexico.
You could make the argument that Sinclair is the greatest women's soccer player of all-time. She has scored 190 international goals for Team Canada. Even though Canada underperformed in her career at the World Cup level, her teams were sensational at the last three Olympic Games.
Four times in Sinclair's international career, she scored four goals in one game. They came in an 11-1 win over Haiti at the 2002 CONCACAF Women's Gold Cup in Victoria, British Columbia, in an 11-1 win over Jamaica at the 2007 Pan American Games in Rio de Janeiro, in an 8-0 win over Guyana at the 2010 CONCACAF Women's Gold Cup in Cancun, Mexico, and in a 6-0 win over Haiti at the 2012 CONCACAF Women's Olympic Qualifying Soccer Tournament in Vancouver, British Columbia.