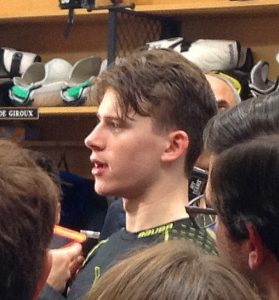 Carter Hart of Edmonton, Alberta recorded his first National Hockey League shutout with the Philadelphia Flyers on Wednesday. Hart made 25 saves as the Flyers defeated the New Jersey Devils 4-0 in an all-Metropolitan Division matchup.
Hart made 10 saves in the first period, seven saves in the second period and eight saves in the third period. He played 31 games with the Flyers in 2018-19 and did not record a shutout. Then, all of a sudden after only two games with the Flyers in 2019-20, Hart has a National Hockey League shutout on his resume.
Taylor Hall of Calgary, Alberta and Kyle Palmieri each led the Devils with five shots on goal. The Flyers meanwhile got goals from Sean Couturier of Bathurst, New Brunswick, Travis Konecny of London, Ontario, Kevin Hayes and Ivan Provorov.
Due to the fact that the Flyers started the season in Prague, Czech Republic, the team has only played two National Hockey League regular season games so far. In the Flyers' regular season opener in Europe last Friday, the Flyers defeated the Chicago Blackhawks 4-3. Konecny led the Flyers in scoring with three points as he had two goals and one assist.
The Flyers are one of five teams that have not lost a game so far. They are joined by the Carolina Hurricanes, New York Rangers, Colorado Avalanche and Edmonton Oilers.