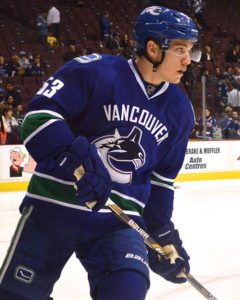 The Vancouver Canucks have named center Bo Horvat of London, Ontario the team captain. Horvat became the 14th captain in Canucks franchise history in an announcement made on Wednesday.
The Canucks went through the entire 2018-19 National Hockey League regular season without a captain. The Canucks had Henrik Sedin as their captain from 2010-2018.
Horvat has been a member of the Canucks since Vancouver selected him in the first round, ninth overall, in the 2013 National Hockey League Entry Draft. He played his junior hockey career with the London Knights prior to joining the Canucks.
Horvat is in his sixth season with Vancouver (380 games with the Canucks) and has 98 goals and 125 assists for 223 points. In 2018-19, he had 27 goals and 34 assists for 61 points. He was a -4 with 33 penalty minutes, 18 power play points, three shorthanded points, three game winning goals, 227 shots on goal, 1083 faceoff wins, 63 blocked shots, 62 hits, 28 takeaways and 38 giveaways. Horvat had career highs in goals, assists, points, power play points, shorthanded points, shots on goal, faceoff wins and blocked shots.
It should be noted that Horvat's first game with the Canucks as a captain was memorable. On Wednesday night at Rogers Arena in Vancouver, British Columbia, the Canucks won their regular season home opener as they throttled the Los Angeles Kings 8-2. J.T. Miller led the Canucks in scoring with four points (one goal and three assists), while Horvat notched an assist. It was also the Canucks' first win of the season after losing last week to the Edmonton Oilers and Calgary Flames.