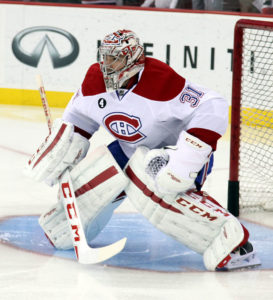 Canadian Olympic gold medalist Carey Price of Vancouver, British Columbia is the primary reason why the Montreal Canadiens won their first game of the 2021 Stanley Cup Playoffs. On Thursday, Price made 35 saves as the Canadiens defeated the Toronto Maple Leafs 2-1 at the Scotiabank Arena in Toronto, Ontario.
In the first Stanley Cup Playoff game between the Canadiens and Maple Leafs since 1979, the Canadiens got goals from Josh Anderson of Burlington, Ontario, and Paul Byron of Ottawa, Ontario. Byron scored the game winner shorthanded with seven minutes and 16 seconds left in the third period.
Price, who won a gold medal for Canada in men's hockey at the 2014 Olympic Winter Games in Sochi, won his 31st NHL career playoff game. The Canadiens had 18 fewer points than the Maple Leafs in the regular season as Montreal had 59 points and Toronto had 77 points. Montreal had a five game losing streak heading into the playoffs as they lost twice to the Maple Leafs, twice to the Edmonton Oilers and once to the Ottawa Senators.
Game two of the North Division semifinal series will now be Saturday night in Toronto. The Maple Leafs and Canadiens will then play back-to-back games in Montreal Monday and Tuesday at the Bell Centre.